Ja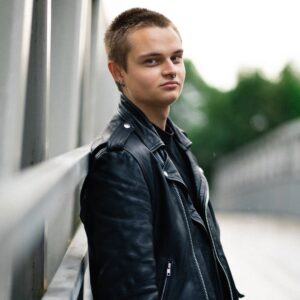 kob Thonander Glans (b.1998) describes himself as a brutalist composer – linking his art to the style of brutalist architecture. As it is often bold, cold, and heavy. He focuses on simplistic yet powerful composition techniques. Often incorporating extreme dynamics and a punkish harshness and simplicity. His music ranges from extremely dissonant to very consonant and is not strictly experimental nor traditional. Often incorporating theatrical elements and non-musical direction. Whatever he writes he keeps a straight-forward attitude and opposes highly academical concepts. His music is a clear consequence of his background from the underground punk-scene and his continuous experimentation with many forms of art.
He graduated from The Academy of Music and Drama in Gothenburg, Sweden with a bachelor's degree in composition spring 2021. Previously he has also done an ERASMUS student-exchange to The Chopin University of Music in Warsaw, Poland and studied at the music folk-high-school Toneheim folkehøyskole in Ridabu, Norway. His teachers include Rune Rebne, Ole Lützow-Holm, Malin Bång, Dariusz Przybylski and Esaias Järnegard.
Jakob has worked with a number of ensembles, musicians and creators spanning Norway, Sweden, Denmark, Poland, USA, Croatia, Spain and England. Including K!ART, Gageego!, Gothenburg Wind Orchestra, Titania – singers, Ensemble Matters, KRÆKK and Insimul Sinfonietta. He is a member of Ny-musikk komponistgruppe – Norwegian foundation for contemporary music's group for emerging composers and also a  member of the Norwegian composers union (komponistforeningen).
He was born and raised in Oslo, Norway. But currently he splits his life between Gothenburg, Sweden, Warsaw, Poland and Oslo.  He mainly resides in Warsaw but frequently travels to Scandinavia as he considers it his artistic base. Jakob is a full time freelance musician and holds no other occupation.